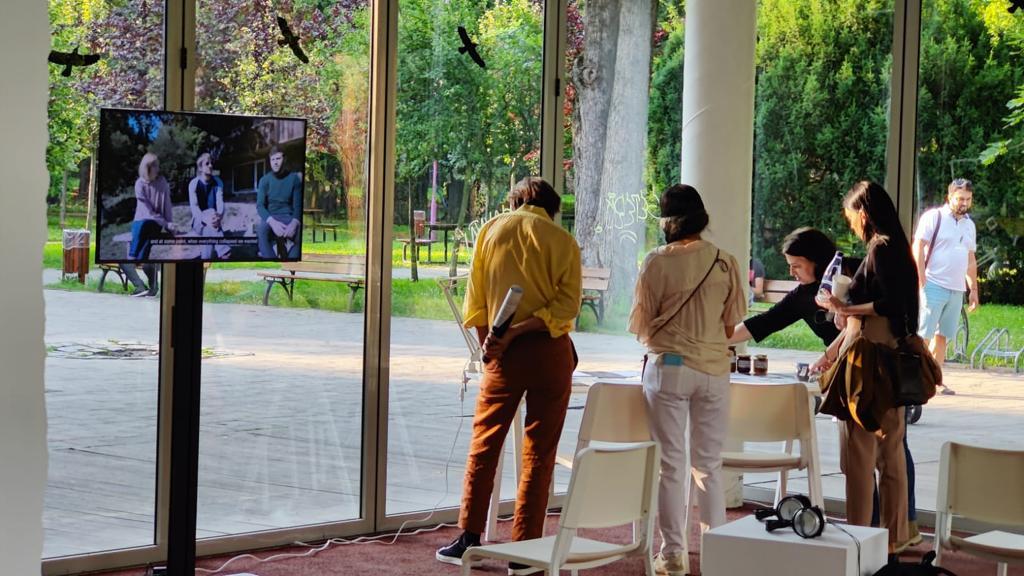 Now the impulse is to live! Timișoara Edition
2 – 15 July 2023
An exhibition organised in the frame of the project C4R (Cultures for Resilience), by tranzit.ro, in collaboration with Atelier d'Architecture Autogérée (FR), Casco Art Institute (NL), Nethood (CH), in partnership with Minitremu Association (RO) and supported by the Creative Europe Program of the European Commission.
2 – 15 July 2023
Riverside Pavilion / Children's Park Ion Creangă, Timișoara
Opening: 2 July 2023, 19:00-21:00
A research exhibition comprising documentation produced in the C4R activities, as well as artworks and documents related to a localised understanding of resilience. The first edition of the exhibition took place in July 2022 in Bucharest, moving to Sofia in September 2022 in an adapted version and with some works presented in premiere. The third edition in Timișoara shows a selection of works from the previous two editions, alongside new contributions that respond to the context of the project and to Minitremu Art Camp #8 intended for high-school students.
The new iteration of the exhibition expands the different understandings of the concept of resilience – both related to nature's regenerative (im)possibilities amidst the climate challenges of the current times, and to the different forms of organization in the rural and urban areas based on an ecological, sustainable and communitarian thinking and acting. Apart from the existing research related to mapping several ecologial farms in Romania, the video presentation of 20 more artistic initiatives in nature and the rural, the presentation in Timisoara includes new initiatives and artistic work from the region closer to Banat: Healthy Places, a co-design model for green and social regeneration of community spaces in Timisoara run by Studio Peisaj; a work by Nita Mocanu documenting the results of the spruce bark beetle invasion caused by draughts and destroying the forests in the Apuseni; or Andreea Medar & Mălina Ionescu's long research into the accidental water leak in Racoti village which has created in time a mini-delta, being the main source of water supply for the local inhabitants.
The exhibition is designed as an informative and learning space activated by the artists invited in the Minitremu Art Camp #8.
Participants:
– atelier d'architecture autogérée, r-urban, CASCO, nethood, Remix the commons, tranzit.ro;
– Gilles Clément, Georgiana Strat;
– Alex Axinte, Bogdan Iancu, Monica Stroe, Alexandru Vârtej;
– GreenMogo, Legumim/ Gastronaut, Luca's Farm, Nettle Garden, Țopa Farm, Soil and Soul, Seed Bank "Casa Semintelor";
– Delia Popa, Vlad Brăteanu, Eduard Constantin, Oto Hudec, Anamaria Pravicencu, Andreea Medar & Mălina Ionescu, Nita Mocanu, Roberta Curcă, Studio Peisaj, TerraPia;
– Ovidiu Țichindeleanu;
– Carambach (Adriana Chiruță), Cecălaca/Csekelaka Cultural Studio (Oana Fărcaș), Crețești Studio-Garden (Delia Popa), Cucuieti Permaculture (Otilia & Radu Boeru), The Dendrological Park Romanii de Jos (V. Leac), Drenart (Stoyan Dechev, Olivia Mihălțianu), The Experimental Station for Research on Art and Life (Dana Andrei, Edi Constantin, Valentin Florian Niculae), The House of Light and Information (Matei Bejenaru), Intersecția Residency (Emanuela Ascari), Jan Hála House (Zuzana Janečková), LATERAL AIR (Cristina Curcan, Lucian Indrei), Muze. Gemüse Initiative (Maria Balabaș & Vlad Mihăescu), The Rajka Orchard (Martin Piaček), Rădești House (Irina Botea Bucan & Jon Dean), Reforesting project (Vasilis Ntouros, Dora Zoumpa), Siliștea Future Studios (Adelina Ivan, Ioana Gheorghiu, Virginia Toma, Ramon Sadîc, Robert Blaj, Vlad Brăteanu), Slon Residency (META Cultural Foundation, Raluca Doroftei), Solar Gallery (Ariana Hodorcă & Albert Kaan), Watermelon Residency (Daniela Pălimariu, Alexandru Niculescu), Na záhradke Gallery (Oto Hudec), Khata-Maysternya/House-Workshop (Bogdan Velgan, Taras Grytsiuk, Olga Dyatel, Ekaterina and Olga Zarko, Alyona Karavai, Yulia Kniupa, Taras Kovalchuk, Magda Lapshyn, Anna Mygal, Sasha Moskovchuk, Svyat Popov, Tanya Sklyar, Natalia Trambovetska, Vilya and Ivanka Chupak); symbiopoiesis (Andrei Nacu).
– Raluca Voinea;
Curator for Timișoara edition: Adelina Luft
In the framework of the C4R project, tranzit.ro has looked at practices that redefine the relationship with the countryside, with land and soil, with nature, with food and natural resources, with the rural communities and with people in the big cities who are looking for sustainable alternatives to their life styles.
All the partners in this project have used a variety of tools: anthropological and cultural mapping, conferences, discussions and seminars as well as digital platforms, in order to highlight different forms of resilience in our societies, in the East, West and North of Europe, touching on issues from the circuit of organic food, to sustainable building materials, forms of commons and of governance, communities structured around ecological thinking and action, and not least artistic initiatives that seek for linking with nature and the countryside.
Some of these different understandings of the concept of resilience will be reflected in the exhibition Now the impulse is to live! As part of a project that is still in progress, the exhibition offers a format for continuous reflection on the topics researched.
Riverside Pavilion, situated in Ion Creangă Children's Park in Timișoara was created following the idea to continue the public space into the building, without having any steps or obstacles, so that interior and exterior merge together.
Minitremu Art Camp is a yearly summer camp intended for theoretical, real or vocational high school students and students in their first years of college.
The project is supported by the EC's Creative Europe – Culture programme.
ERSTE Foundation is the main partner of tranzit.
The event is part of "Outside the school" a component of the Knowledge fields (along with Kinema Ikon, Asociatia Foc si Pară / Indecis and Association Doar Maine) part of the national cultural programme "Timișoara – European Capital of Culture in the year 2023" and is funded by the City of Timișoara, through the Center for Projects.