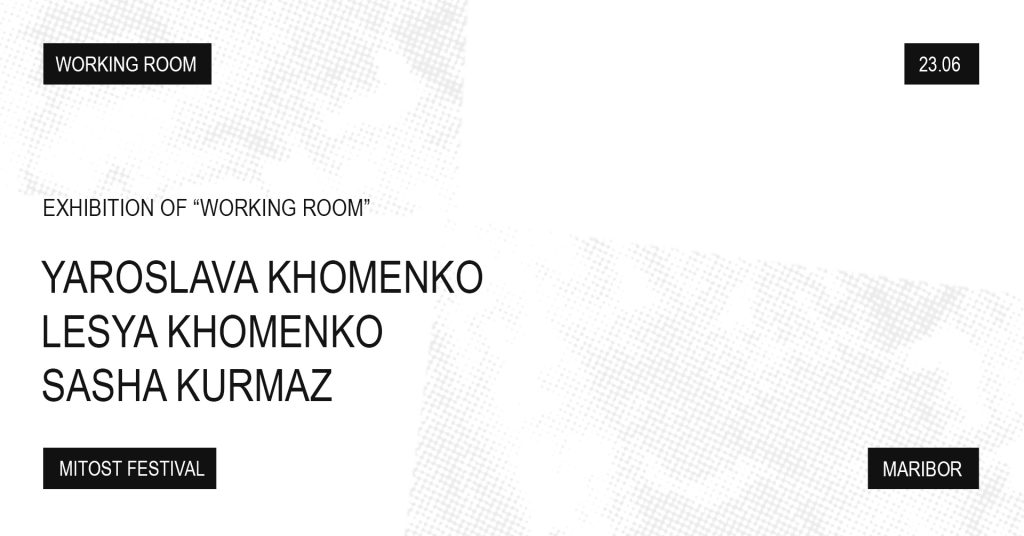 "Working room" is going to Maribor (Slovenia) in a smaller form. The works of Lesia Khomenko, Yaroslava Khomenko and Sasha Kurmaz will be exhibited in the shopwindow of the closed shop "Modna hiša" right near the Central Station of the MitOst-Festival.


"Working room" is and art residency and working laboratory, established by "Asortymentna kimnata" in Ivano-Frankivsk in early March 2022 for 17 IDP artists who were forced to move to the West of Ukraine. During 3 months the group of artists created more than 60 works – visual works, performances, videos, objects. All of those works were presented on a half-spontaneous exhibition and series of events in Ivano-Frankivsk from the 4th till 17th of June.


A part of these works are coming to Maribor to be presented – together with Anna Potyomkina, Alona Karavai and Olia Diatel, who'll open the shopwindow of "Modna hiša" and will tell more about the whole story.
MitOst-Festival s a place of cultural exchange, a chance to connect with the MitOst network and learn with and from each other. This year marks the 25th anniversary of MitOst and all inputs will be given as a birthday gift for MitOst Network. Especially now, MitOst believes it is essential to get together and to connect as a network and explore what resilience means in the civil society sector.
MitOst was one of he first international partners to support "Asortymentna kimnata" in its urgent response activities. So, it makes a lot of sense that the first abroad destination for a part of the exhibition "Working room" is Maribor and MitOst-Festvial.
!!! The opening will take place on 23.06. on Thursday, at 11:00 – as the finishing point of MitOst-Mosaic. The shopwindow will be opened by Anna Potyomkina, Alona Karavai and Olia Diatel.